Detroit Bicycle Accident Lawyers
Responsive & Compassionate Legal Counsel for Injured Bicyclists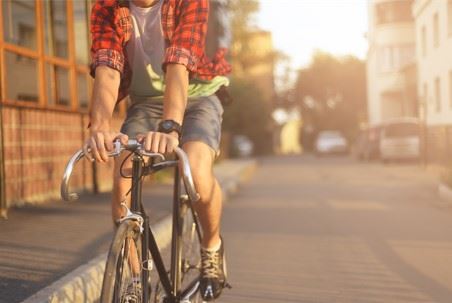 Bicyclists are afforded very little protection in an accident with a motor vehicle. As such, the outcome of the average bicycle accident is devastating to the bicycle rider. The bicyclist will typically suffer severe injuries made worse by the fact that the driver's insurance provider will likely fight the claim each step of the way.
When you have to take on a stubborn insurer after being hit while riding your bike, you will want to work with a legal team that truly cares about your recovery. If you live in Detroit or the surrounding area, then that means you will want to work with Bashore Green Law Group. For decades, our bicycle accident lawyers in Detroit have been the trusted name among injured claimants with severe injuries and serious cases.
See the Bashore Green Law Group difference for yourself. Call (248) 487-1887 and speak with our Detroit bicycle accident attorneys.
Severe Injuries Suffered in Bicycle Accidents
Bicycle accidents are extremely dangerous because the weight and mass differences between the bicyclist and the automobile are also extreme. At a relatively low speed, a car can hit a bicyclist with tremendous force, resulting in a violent accident. The danger of the situation and the injuries that follow will be exacerbated if the accident happens on a busy street, too.
Catastrophic injuries often suffered by bicyclists in accidents include:
Traumatic brain injuries: Bicycle helmets help prevent head injuries in a crash, but they can only do so much. If a bicyclist is thrown off their bike in a crash, then they might suffer a TBI.
Spinal cord injuries: A particularly violent bike accident can cause the bicyclist to suffer spine damage, which might result in some form of paralysis.
Multiple broken bones: A severe impact in a bicycle accident can cause multiple bone fractures. Extensive hospitalization will be required to make sure the bones are set and heal correctly.
Permanent disfigurement: Scarring and disfigurements might not always cause a disability, but they can cause permanent harm all the same through emotional damage.
Our law firm can provide ample and compassionate legal counsel to people who have lost a loved one due to a severe bike accident, too. In such cases, we would need to talk about filing a wrongful death claim, which pursues compensation and justice for the deceased's loved ones.
What Should You Do If Someone Hits You On a Bike?
After being hit by a car while riding your bike, if you are not seriously injured you should take the following steps:
Call 911 and report the incident immediately, they can also check you for any injuries when EMS arrives at the scene
Don't allow the driver to leave the scene if possible; get their contact and insurance information, as well as their license plate number and driver's license number
Get pictures of your injuries and your bike (as well as the driver's car)
Talk to any witnesses and get their contact information
Find out how you can get a copy of the police report
Get medical attention immediately and save any bills or other documentation for medical care received
Contact an attorney at Bashore Green Law Group to discuss your accident in a free, no-obligation consultation
Who is to Blame for a Bike Accident?
Figuring out who is to blame for your bicycle accident is a crucial part of our work as your chosen bike accident lawyers. The driver will almost certainly blame you, even if they know you did nothing wrong. We have to be ready to counter them with convincing evidence that shows otherwise.
Acts of negligence drivers commit that cause bicycle accidents include:
Turning in front of a bicyclist
Changing lanes without checking blind spots
Opening the door right as a bicyclist approaches (dooring)
Driving in a dedicated bicycle lane
Failing to use turn signals
Tailgating a bicyclist
Eyewitness statements, police reports, and even footage from your own helmet cam can be crucial to proving that the driver did something wrong. Let us know if you have any useful sources of evidence that we can examine while working on your case.
Get Ready for Anything – Call Now
A key to winning a bicycle accident claim is to be ready for anything. You never know what the opposition is going to throw at you to try to defeat your argument and minimize the value of your damages. But with our Detroit bicycle accident attorneys on your side and backed by all of our decades of legal experience, you can be confident that there will be no adverse surprises.
Interested in pursuing a bicycle accident lawsuit? Request a free consultation today with our bicycle accident attorneys in Detroit by dialing (248) 487-1887.
I am so thankful for and appreciative. - Heidi G.

Answered all of my questions. - Rashanda M.

Very satisfied with everyone at Bashore Green Law Firm. - Lora S.

Very professional service. - Stephen H.

You can't get better than Bashore Green Law firm. - Felicia A.