Personal Injury Attorneys Serving Auburn Hills, MI
If you are still dealing physically and emotionally from a recent injury, you may be getting inundated with requests from insurance companies, law enforcement, and doctor's offices. You might find this period overwhelming and are simply looking for the right place to turn. If this sounds like you, let our personal injury attorneys at Bashore Green Law Group lend a hand.
Let's face it, accidents happen every day. Some injuries are minor but others are more severe and can lead to life-changing trauma. You may be facing a long recovery period or have no possibility of returning to work for the foreseeable future. Your family may offer a lot of good advice, but does it provide a solution to your challenges?
Our Auburn Hills personal injury lawyers are some of the most professional and compassionate people you will meet. We take great pride in offering the finest in the best possible legal representation to people like you, who need it most.
When you contact our Auburn Hills personal injury attorneys, you will soon discover they handle all types of injury and accident cases, including:
Medical Provider Claims
Slip and Fall
Class Action
Why Hire Our Auburn Hills Personal Injury Lawyers?
You may think you can file a lawsuit and represent yourself in civil law cases. There is no law that stipulates you must have an attorney present as in criminal law cases.
There are benefits to hiring a personal injury attorney:
Free, no-obligation consultation. You have questions about your claim, and we can provide answers to you. If you have little or no knowledge of Michigan law, you should know that there are pitfalls you will want to avoid when filing a lawsuit. Our Auburn Hills personal injury lawyers will point out all you need to have the best chance of a successful outcome.
We won't ask for money up front. If you do not recover compensation from your claim, neither do we. There are other unrelated attorney's fees you will be responsible for, but if you do not win your case, we will not ask for money.
Let our collective expertise work for you Our experienced team of Auburn Hills personal injury lawyers know the law inside and out. Our investigative teams will put together your claim and provide you with the information you need.
Retain your objectivity. Right now, you may be angry, fearful, and full of frustration about the future. By speaking with our personal injury attorneys, you will move toward clearer thinking and the correct actions, which may be a little hard to come by these days.
We work with other lawyers so you don't have to. When it comes to exchanging documents and facts, we are experts at it. We likely will know the other side's attorneys as well.
We fight for the settlement you deserve. Most cases do not go to trial and we will negotiate the best settlement for you and for your future.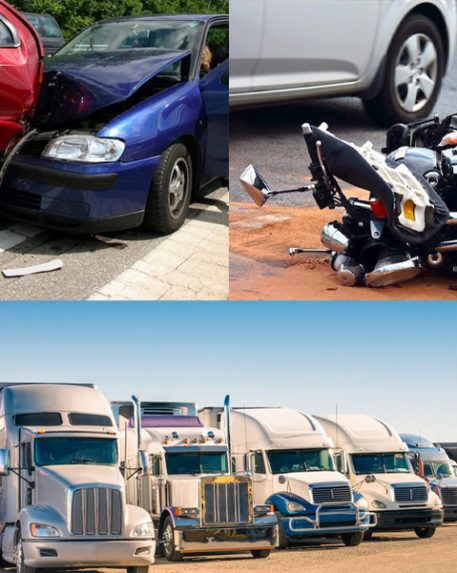 Auto, Truck, and Motorcycle Personal Injury Attorneys
Auto Accident
One of the most common personal injury claims are for motor vehicle accidents. When you work with our Auburn Hills auto accident lawyers, we become your advocate in ensuring that your rights and interests are protected to the fullest extent of the law.
Because Michigan is a no-fault state, any bodily injury from an automobile accident is covered by insurance companies. You can expect to see medical expenses paid, lost wages from missing work replaced, mileage coverage, and replacement services for home or vehicle modifications if needed.
Truck Accident
Trucks and buses are sometimes responsible for serious accidents. If this has happened to you, you will want to know you have done everything possible to make things right again. Our Auburn Hills truck accident lawyers will help uncover the reasons for the truck accident and help you to receive the compensation you deserve.
Motorcycle Accident
Motorcycle accidents can happen to anyone. Michigan law for motorcycle mishaps differs from other motor vehicle accidents. There are benefits you may be eligible for if you have been injured. Our Auburn Hills motorcycle accident attorneys are familiar with all aspects of motorcycle law and will guide you to recovering the compensation you have coming to you.
Our Personal Injury Practice Areas
Our Auburn Hills personal injury attorneys take on new cases every day. Our trusted law firm represents small businesses, individuals, and families. In addition to auto, truck, and motorcycle accidents, we assist in many different personal injury cases, including dog bites, product liability, medical provider claims, slip and falls, wrongful death, and class action lawsuits.
If you're thinking you can take on the case and represent yourself, think again. That would be a mistake! You need a full understanding of Michigan law and the ability to negotiate, mediate, litigate and facilitate with other law firms who will have the advantage over you.
Do not let other law firms, insurance companies or law enforcement try to bully you into a settlement. Our Auburn Hills personal injury lawyers have represented many clients throughout the years, and we are fully prepared to sit down with you and find out the best next steps moving forward.
If you are in need of a personal injury lawyer, contact us today. Come in for your free, no-obligation consultation and let us show you how we can provide you the successful outcome you have been looking for. Whether your case is big or small, we take them all. Our Auburn Hills personal injury attorneys think of their clients like family. We are that committed.
I am so thankful for and appreciative. - Heidi G.

Answered all of my questions. - Rashanda M.

Very satisfied with everyone at Bashore Green Law Firm. - Lora S.

Very professional service. - Stephen H.

You can't get better than Bashore Green Law firm. - Felicia A.