Detroit Distracted Driving Accident Attorneys
We Can Help You Stay Focused on Winning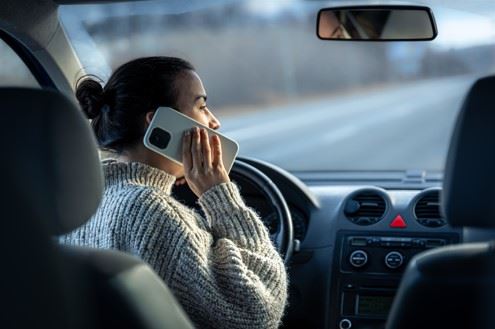 After a distracted driver crashes into you on the streets of Detroit, you will get frustrated and angry with them. What is more important is that you get the compensation you deserve from them and their auto insurance provider. Before you lose track of that goal, call (248) 487-1887 to connect with Bashore Green Law Group in Detroit. We are the legal team that people trust to build their cases from the ground up and push them towards the best possible outcomes. This is what we have been doing for many years, and we would like to do the same for your distracted driving accident case!
On This Page:
Many Distractions, All Dangers
No matter what, distracted driving is dangerous. It does not matter what type of distraction it is that a driver engages in, it should not be done. If the other driver admitted to distracting themselves at any point before the crash, then you should record what they said or see if you can back that with other eyewitness statements. Sometimes, a single admission of guilt is all our distracted driving accident lawyers in Detroit need to springboard a case to success.
Distractions can take many forms, such as:
Eating or drinking
Rubbernecking
Texting and driving
Talking to passengers
Adjusting the music
Self-grooming
Four Forms of Driver Distractions
All forms of distractions cause one or more distinct types of driver distraction. The more types of distractions that are caused by a single activity or behavior, the more likely it will cause a driver to crash into another motorist or pedestrian.
The four forms of distractions are:
Manual: A driver is distracted manually if something has taken their hands off the steering wheel.
Visual: A driver is distracted visually if something has taken their eyes off the road ahead and their mirrors.
Auditory: A driver is distracted auditorily if something has made it more difficult to listen to the sounds of traffic around them like horns and engines.
Mental: A driver is distracted mentally if something has made them lose focus on the task of driving. Mental or cognitive distractions are believed to linger for 30 seconds on average.
Texting Engages Three Distraction Forms at Once
Out of all the driver distractions out there, texting and driving is one of the worst and most common. It seems that every driver has a smartphone, so it is unfortunately simple for most any driver to distract themselves with such a handheld device.
The true danger of texting and driving is that this type of distraction caused three forms of distraction all at once. Picking up the phone is a manual distraction, looking at the screen is a visual distraction, and thinking about the text is a mental distraction. If a text includes a video or audio file, then it will be an auditory distraction, too!
Please make a note if you noticed that the other driver was on their phone when your crash happened. It could be a good starting point for us to use to begin developing your case.
Case Results Matter – Call Our Firm Right Now
You can learn more about filing an injury claim today by getting in touch with Bashore Green Law Group. Our distracted driving accident attorneys in Detroit are here to answer all of your questions and show you just how simple it can be to pursue the compensation owed to you. We do not stop or slow down until you get every penny in medical costs, lost wages, pain, suffering, and more.
For results-driven legal advocacy, contact our team now to speak with our Detroit distracted driving accident lawyers.
I am so thankful for and appreciative. - Heidi G.

Answered all of my questions. - Rashanda M.

Very satisfied with everyone at Bashore Green Law Firm. - Lora S.

Very professional service. - Stephen H.

You can't get better than Bashore Green Law firm. - Felicia A.