Detroit Personal Injury Lawyer
Skilled & Trusted Attorneys Fighting for Injury Victims in Detroit, MI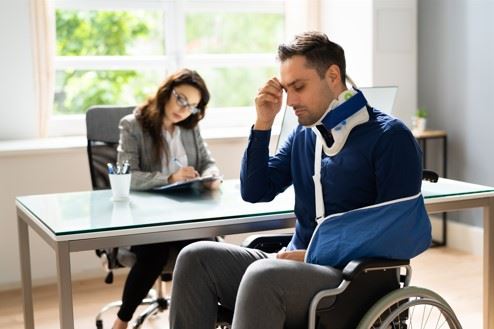 When you or a loved one is injured because of someone else's negligence, navigating the legal system to gain the compensation and justice you deserve can be intimidating, confusing, and oftentimes overwhelming. A Detroit personal injury lawyer can cut through the chaos to provide results with your best interests at heart.
We Don't Get Paid Until You Do!
Our team of personal injury lawyers in Detroit, MI at Bashore Green Law Group want to hear your story. This will allow us to better understand what happened and how you were injured. We work with you to determine if there is a claim to file and what its value might be, based on our experience and knowledge of the law and insurance companies. Because of our work in the personal injury field, we can explain the possible outcomes to you, so you know what to expect when moving forward. A personal injury case can be a long road from start to finish, but we will be with you at every step.
Contact our team of personal injury lawyers in Detroit, MI today at (248) 487-1887 for a free initial consultation!
On This Page:
Cases We Handle
Our Detroit personal injury attorneys handle all types of injury and accident cases, including:
Medical Provider Claims
Class Action
How Are Damages Determined In a Personal Injury Lawsuit?
In most personal injury claims both your attorney and the judge will look at several different elements to determine the value of your damages:
Medical expenses due to treatment, medications, therapy, etc.
Pain and suffering experienced as a result of your injuries
Missed work or lost income due to your injuries
Damaged property including your vehicle, personal belongings, etc.
In some cases you may be able to also pursue compensation for things such as loss of enjoyment or loss of consortium. The value of each personal injury case is unique, so it's important that you discuss your situation with a trained injury lawyer in order to determine a fair settlement amount.
Michigan's Personal Injury Statute of Limitations
It's important to be in touch with a personal injury lawyer in Detroit as soon as possible after any personal injury. The legal timelines in these cases are often quite stringent and the best chances of success begin with timely representation. Michigan has a three-year statute of limitations on personal injury claims starting from the date of injury, but it is wise to begin long before that time elapses. We are pleased to offer a free consultation to potential clients so you can have the process started as quickly as practicable.
Helping You Negotiate With the Insurance Company
Any time you are stuck dealing with an insurance company, you are looking at a combative situation. Insurers typically do not want to pay out high amounts and often offer low settlements in hopes that personal injury victims will accept out of frustration with the legal system. If you do this, you are missing out on the compensation you deserve, simply because the insurers want to save money.
It is also important to know that in many personal injury cases in Michigan, any fault that can be placed on the victim reduces compensation. We work hard to uncover evidence to build and support a case that supports your rights.
Why You Should Hire a Personal Injury Attorney
Without legal representation, you or your loved one could be left paying for expensive medical care, lost wages, and other financial impacts of the injury out of pocket. This financial stress only makes the situation worse and is simply unfair. We will pursue compensation through every legal means.
Whether you or your loved one is dealing with a motor vehicle accident, motorcycle accident, or another personal injury claim, our team of Detroit injury attorneys has what it takes to find you the compensation you deserve now, and ensure that your future needs are accounted for. Hiring a personal injury attorney can make all the difference between making the most of your remaining quality of life or suffering.
Legal representation is important in any case of personal injury. After an injury, victims often have a lot of questions and concerns about how they will pay for treatment, how their work will be impacted, and what their lives will look like going forward. They also have to deal with insurance companies and their powerful lawyers. You can rely on our team to help answer your questions and concerns, meet your needs, and maximize your potential compensation based on our extensive experience and understanding of the law.
We Specialize in Motor Vehicle Accidents
Our Detroit accident lawyers are here to help you navigate any kind of accident.
Injury attorneys who specialize in motor vehicle accident practice areas understand how to best navigate the legal system.
Car Accidents - Given that Michigan is a no-fault state for car accidents. We are here to fight for you to ensure the insurance company pays medical expenses, lost wages, attendant care, medical mileage, replacement services, and home and vehicle modifications as required. Insurance companies want to avoid compensation, and without legal representation, it can be challenging to win the battle.
Truck Accidents - When it comes to truck accidents, our Detroit injury lawyers are well versed in trucking safety regulations and violations, as well as other forms of negligence. These accidents are often devastating, and we work hard to provide our clients justice.
Motorcycle Accidents - Motorcycle accidents are also complex legally. In Michigan, a motorcycle is not a motor vehicle under the no-fault law, but a Detroit motorcycle accident attorney will help you pursue a case in the event of negligence or wrongdoing. We fight for you in court and against insurance companies to secure the benefits you need to alleviate some of the impacts of an accident.
In all types of personal injury cases we can gather evidence, determine the value of your claim, and meet every legal timeline. When you need a Detroit accident lawyer, look no further than our experienced team.
Contact Bashore Green Law Group Today!
We understand that personal injury can happen anywhere, at any time, which is why our law group will work to protect your rights and interests.
Every personal injury is life-changing in some way, and each situation brings its complexities and legal considerations. Our injury attorneys in Detroit are skilled and experienced in all of these areas while maintaining a focus on compassion and respect for our clients.
If you have suffered a personal injury, we will fight for you. Tell us your story and we will work with you to determine how we can help you resolve your legal situation.
Contact us for a free consultation with one of our Detroit personal injury lawyers or call us at (248) 487-1887.
I am so thankful for and appreciative. - Heidi G.

Answered all of my questions. - Rashanda M.

Very satisfied with everyone at Bashore Green Law Firm. - Lora S.

Very professional service. - Stephen H.

You can't get better than Bashore Green Law firm. - Felicia A.