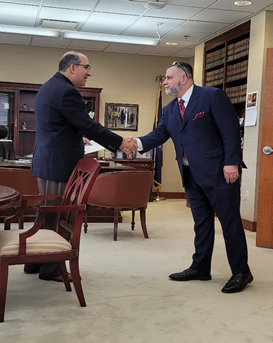 Lionel E. Bashore, co-founder and senior partner at Law Office of Bashore Green, has been admitted to practice law in the state of Illinois by the Illinois State Bar Association. He was presented with his admission to the Illinois Bar earlier this month by Michigan Supreme Court Justice David Viviano.
Lionel has been a highly sought after trial and transactional attorney since 1998 with significant experience practicing law in the states of Michigan and New York. He handles a range of complex business and commercial matters and supports the firm's personal injury work for clients. With this breadth of experience, Lionel hones his skills as a savvy legal expert to serve clients in a wide variety of industries.
"This is a strategic step in our efforts to continue growing the firm and serving our clients and their interests in multiple states," said Bashore. "It is an honor to be a part of the Illinois Bar and provides us with an added level of flexibility to meet client needs."
Among his many accomplishments, Lionel managed a $40 million sale of a long-standing client to a commercial equity fund he also has obtained several of the firm's largest trial judgments over $1 million. Lionel's approach is experienced and aggressive on behalf of his clients, with thoughtful counsel that provides clients with additional support and guidance regardless of legal outcomes. This counsel requires skill, accountability, and foresight.
With Lionel's admittance, Bashore Green now can provide ongoing business, personal injury, and many other areas of legal representation to its residents and business owners.
"This is another step for our firm to expanding our reach and services throughout the Midwest," said Managing Partner Kevin Green. "Lionel is a star in our field and is highly respected by his peers and appreciated by our clients."
To learn more about Bashore Green contact 248-209-6009 or visit www.bglawpc.com.